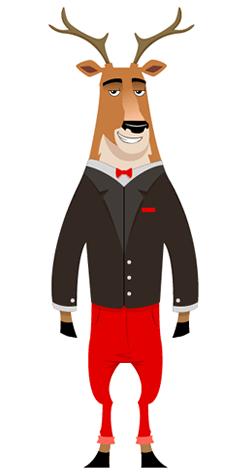 Thurmond
Thurmond is the quintessential gentleman through and through. His 3-piece suit matched with his MC Hammer pants say, "I'm classy, but I also like to boogie." Often mistaken as a butler at his own parties, Thurmond naturally serves others with a quiet confidence and a wink that turns white tails a shade of pink. His philosophy is if you can't serve, you can't lead. And with industry-shocking t-shirt prices at 3 Buck Threads, it's his pleasure to serve you with quality, bargain shirts folks are fawning over.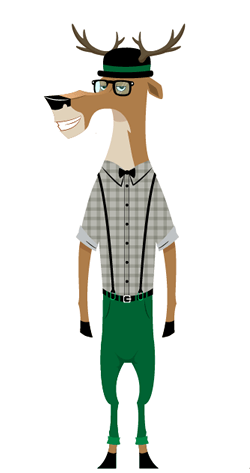 Cliff
Preferring quinoa over corn, Cliff's enthusiasm for the unique makes him a buck who stands out from the herd. From his bowler hat to his suspenders, Cliff believes in expressing yourself through custom attire and rallying groups for a great cause. Whether you are outfitting people to increase school spirit, identifying volunteers, or thanking participants, he's behind your movement, and he hopes you back his too. His "Save The Green" campaign is in startup phase but is committed to saving 3 Buck Thread lovers, well . . . big bucks. Show your support by wearing a green hat every single day of the year. And be sure to give him a wave the next time you spot him in a food truck line.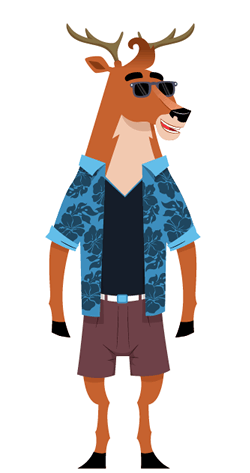 Theo
Just chill, man. Theo's got you covered. A pro at easy living, Theo hopes you catch a breeze as you surf the 3 Buck Threads site with stress-free ordering. It's true—you can capture the personality of the beach bum with our friendly, online experience. Theo's personal mantra is "don't take yourself so seriously," which keeps fun in the forefront of every customer interaction. During the holidays, Theo strings colored lights through his antlers and croons Beach Boy tunes on the sand. So take a deep breath, have a fish taco, and come out to the campfire. And sing a happy song: you're saving some major dough-re-mi with 3 Buck Threads.